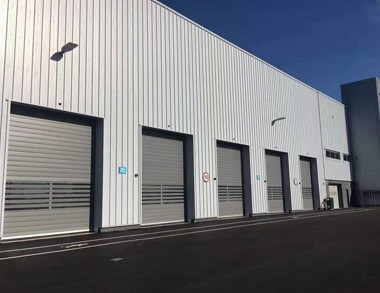 The world 's energy demand is constantly rising and natural energy is drying up. Efficient utilization, energy saving and emission reduction are the core of modern industry. With the continuous increase of production capacity, the operating speed of automatic rolling door switches has also increased. We create an automation for you The high-volume operation of rolling shutter doors is a supporting product for the industrial 4.0 high-tech strategic plan. The development of hard shutters will rewrite the new era of industrial automatic rolling doors.
The quick door adopts the vortex track opening method, which runs smoothly. The door panel is made of aluminum alloy foam profile, which has good thermal insulation performance. The motor adopts servo frequency conversion control system to achieve adjustable door running speed.
The speed of the quick door can be adjusted from 1.2-3.0 meters per second. The door body is equipped with airbags and infrared protection, which is safe and reliable. A transparent see-through window can be added in the middle of the door body to ensure good lighting.
The modern industrial workshop has a sustainable high-speed automatic insulation door that can reduce energy consumption, accelerate work efficiency, and be safe and reliable. It is the preferred product for emerging industries.
The speed of the hard fast door is 10 times that of the ordinary factory door. The close cooperation, high-end electronic control program and advanced frequency conversion system make it safer, more durable.